Quick Curb Appeal Projects You Can Do in an Hour
April 4th, 2016 - 3:40 PM
Easy weekend curb appeal landscaping​
April is National Garden Month! In its honor, we updated this helpful post with tips on front yard landscaping and improving curb appeal. Enjoy!
Whether you're planning to stay a while and want to make your home look beautiful from the street or it's time to put it on the market and you want to make it more attractive to home buyers, adding some curb appeal can make a huge impact. If you're a weekend warrior with a limited budget, here are some ways you can take your humble abode from "blah" to "wow!" with minimal effort.
Quick curb appeal ideas
For a TON of inspiration, check out our Pinterest board full of Weekend Curb Appeal Projects! It's an open pin board, so feel free to pin your favorite projects there as well.
For overall curb appeal:
Start with the front door. When it comes to a front door makeover, you may be surprised to see what a good cleaning and a fresh coat of paint can do! This is a great place to make a statement so don't be afraid of color when choosing paint. Red paint on the door goes well with white, blue, cream or gray homes. Black matches most exterior colors, and a bright yellow goes well with light-colored houses. Just look at this cheery front door. So inviting! To finish this project fast, choose paint like Glidden® Duo®> that doesn't require a primer. 
​
Replace hardware. For a modern finish, opt for satin nickel, antique brass, matte black or oil-rubbed bronze — all very popular right now. Switch out the doorknobs, locks and even light fixtures to update the look. If you're on a tight budget, just paint them! Spray paint is available in several metal finishes so hardware can be redone in a snap. Rust-Oleum® has several indoor/outdoor metallic colors that will make quick work of this curb appeal project. See what a difference the antique brass finish makes on these door knobs?
Add lighting. Shed some light on your home to add curb appeal even when the sun goes down. Installing simple solar lights and spotlights can easily add some nighttime charm to your residence. Check out how outdoor lighting adds to the curb appeal of this home from The Morrisons. This project only required a trip to a home improvement store and sticking lights in the ground. Very fast!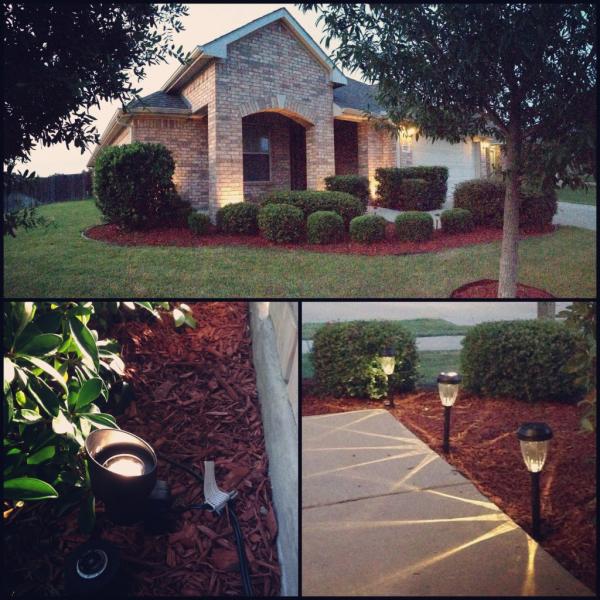 Spruce up your garage door. Fancy garage doors can cost a fortune.  Did you know a carriage door hardware kit can be bought for around $20 at a local home improvement store?  Adding decorative elements to such a functional part of a home is easier than you might think.  
Update: one of my coworkers was so inspired by my post, she ran out and tried it herself after work — here's the before and after!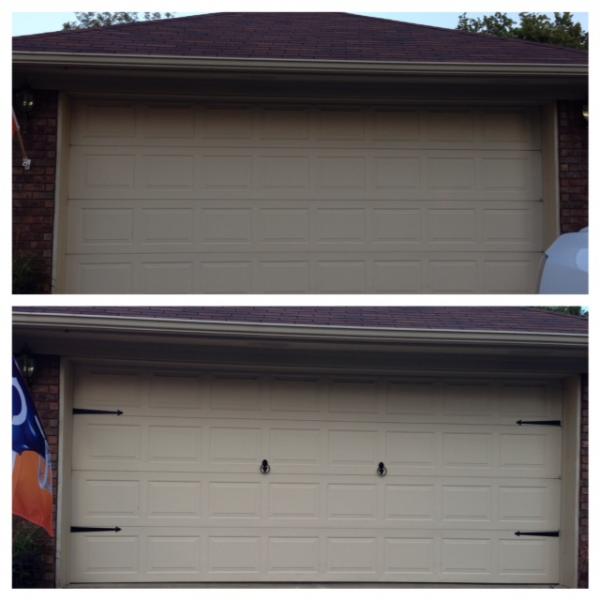 Clean your gutters. Remove debris and then clean your gutters with a power washer. It's amazing how nice they'll look once they're free of leaves and gunk. You can typically rent a power washer from a home improvement store and finish the job in an hour or less.
Upgrade the mailbox. Applying fresh paint to your current mailbox or purchasing a new one will add instant curb appeal. This idea doesn't have to be expensive — just buy spray paint and new number decals and give it a fresh design for around $10. See how great this mailbox looks with a new coat of white paint to brighten it up? That's an easy fix!
Front yard landscaping ideas
Add greenery. Lush ferns and potted plants near the door make an entry way more lavish. Choose bigger plants in neutral planters to pack a punch or choose some bright planters if you're looking to add a splash of color. Just don't go overboard; your space should look manicured and welcoming, not like a green house. One nice potted plant on each side of the door is a good balance. Potting a plant takes about 15 minutes — how's that for fast landscaping? Decorative urns like these make a great statement.
Break up big areas. If you have a large yard or the house has a big wall facing the road, it's a good idea to add some flowers, trees or shrubs to break up that space. This is one easy landscaping tip that can really increase curb appeal and add some visual interest. Check out how this tree with edging and mulch breaks up this vast grass yard!
Use furniture. If you live somewhere where the climate isn't ideal for growing, or if you don't have the time to care for flowers and plants, use furniture to make a statement that others can see from the curb. This front porch looks so inviting with a pair of rocking chairs! And the fun pop of color really catches your eye.
Freshen up mulch. One of the most overlooked areas in any front yard flowerbed design is fresh mulch.  Dried up, discolored mulch can be off-putting, but fresh mulch will impress anyone driving by your home. Spend an hour or so spreading out some new mulch and transform the front yard.
Fill spaces with flowers. Whether with potted plants, a front yard flower bed or hanging plants, flowers just bring in color, interest and a very classy look. Depending on the size of the flowerbed, it may take a little while to plant flowers at your front door, but the impact will be worth it.
These quick curb appeal ideas will add interest to a home, and may even attract potential buyers (which is of particular importance when trying to sell!). Try out these simple improvement ideas over the weekend and enjoy your home's facelift!
Have an easy exterior update that you LOVED? Share your curb appeal projects with us on Pinterest or Facebook!