How to safely move & store a refrigerator
Refrigerators are expensive. If you're moving one, you want to make sure to do it right to keep it from getting damaged.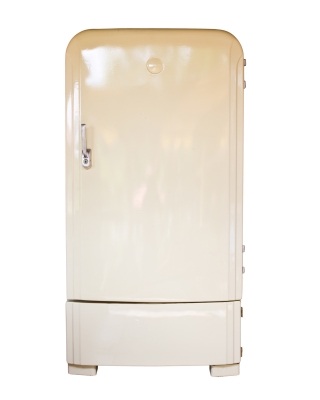 [Image courtesy of patpitchaya/freedigitalphotos.net]
Here are some great tips for moving your refrigerator safely:

Preparing your refrigerator to move
Turn it off. Begin letting your refrigerator defrost about one-week prior to your move. To do this, turn it off and unplug it according to the manufacturer's instructions. Be especially careful if you have a water/ice dispenser – the water will need to be turned off and the water line disconnected.
(Tip: if you no longer have the instruction book, you may be able to find a copy at Appliance411)
Empty and Clean it. Remove all of the contents and thoroughly clean and dry the defrosted refrigerator.
Stop the odor. Leave the doors open for several hours after defrosting to avoid mildew and a musty odor (you may even want to put an open box of baking soda inside to help with odors).
Pack the pieces. Remove shelves, bins and any other loose parts; wrap glass or fragile pieces with bubble wrap or packing paper and pack them separately.
Secure for moving. Tape the doors shut with packing, tape the cords to the back with packing tape, and remove and wrap the toe board with packing paper.
Loading your refrigerator
Use an appliance dolly. It will make moving large appliances much easier (just make sure to avoid tipping too much).
Avoid laying the refrigerator on its side. When the refrigerator is on its side, the oil in the compressor can flow into the cooling lines. Then, when you turn it upright, the oil may not completely drain from the cooling lines and keep the refrigerator from cooling. Not good! You'll probably need to tip it slightly while loading and unloading, so make sure to let it sit for at least 48 hour before plugging it in.
Wrap it. Wrap the refrigerator in furniture pads or plastic wrap to avoid scratches.
Load it. Your refrigerator and other large appliances should be loaded into the moving trailer or moving container first.
Secure it. Tie your refrigerator down with moving straps or rope to keep it from shifting in transit.
Storing a refrigerator
If you're planning to store your refrigerator for an extended period of time, the most important thing you can do is clean, defrost and dry it well – especially if you want to avoid major stink when it comes time to move it to your final destination (not to mention mold, mildew, and pests).
Go the extra mile and soak all drawers, shelves, and other removable parts in warm, mild, soapy water (stay away from abrasive cleaning solutions that may cause damage).
Then, make sure it's completely dry while it's in storage (including the ice/water lines). You may even want to leave the refrigerator's doors open slightly (or remove them) for storage.
I hope you've found this information helpful! If you're moving long-distance and looking for ways to save on your move, get a free moving quote from U-Pack! You load and unload, and U-Pack does the driving!
More "How to Pack & Move" Resources from U-Pack
The complete beginners guide to packing
How to pack China
How to pack dishes
How to pack and move collectibles
How to pack a TV
How to pack electronics
How to pack clothing
How to pack jewelry
How to move a mattress
How to move a desk