What should I buy for my new apartment?
Moving to a new apartment is a big step – especially if it's your first time venturing out on your own. And as you may have noticed, it's a step that has the potential to get really expensive, really fast (not to mention overwhelming).
The best way to start an adventure like this is with a budget and a list.
Figure out how much you have to spend on equipping your new home, then prioritize based on needs then wants. You may want to buy some stuff new, but if you're willing to do a little digging, you might be able to find some things you need for your new apartment at resale shops, consignment stores, garage sales, or online classified ads (just make sure to check them out in person before handing over the funds).
If this is your first apartment, you can probably start out with just the basics and add things as needed. If it's a furnished apartment, you may not need much furniture (or any at all). If it isn't furnished and you're planning to buy, be sure to measure the space ahead of time so you don't end up with things that don't fit.
Printable New Apartment Checklist
(click on the image to download the entire checklist)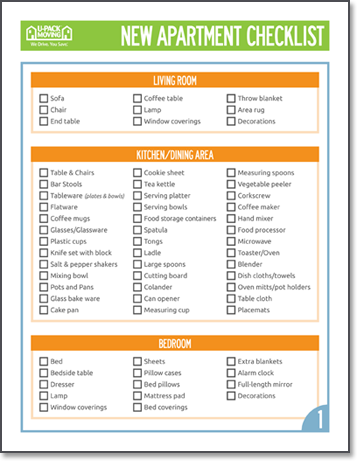 Before you head to the store to buy the supplies you'll need for your new apartment, there are a couple of things to consider:
Are you moving long distance or across town? Some things are just fine to move across town but not okay to move long distances (flammables, perishable foods, cleaning supplies, and other things on the Do Not Ship List).
Will you have a roommate? If you're leaving a roommate behind, some of the items you're accustomed to living with may not be coming with you. On the flip side, a new roommate may already have some of the things you'll need.
Now, you're ready to get shopping!
What are the things you can't live without at your apartment?